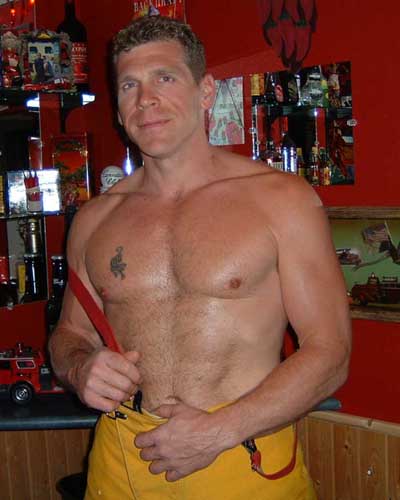 <![if !vml]>

<![endif]>
<![if !vml]>

<![endif]>
Weight Lost -- 110 Lbs !!!
Occupation-- Paper Maker & Fireman




Before After
Related Article: Theories and Philosophies of Firefighter Physical Preparation--From Red, White & Blue Fitness.
Heavy Sports President's Note: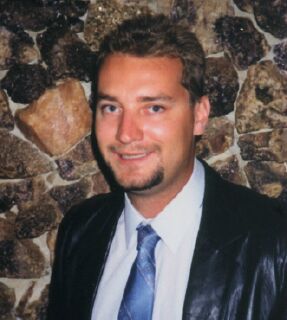 As a young lad growing up in the small town of Fort Frances, Ontario Canada, I didn't see very many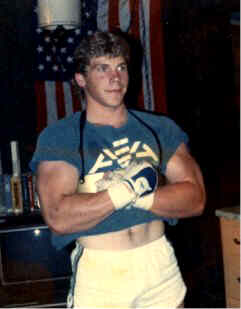 weightlifters as our town only had a small weight room and weight training didn't have the popularity in the mid-to-late '80s as it now seems to have.
When I was around 12 years old I remember one guy about four or five years older than me who obviously spent a great deal of time in the weight room and was a great local high school athlete in football and hockey. His name was Raymond Herbert and he was "built like a brick shit house". Looking back, he was inspirational in my quest to get bigger and stronger.
The pic at right is Ray sometime in the early '80s
I got to know Ray quite well in 1996 when he started working in the paper mill in the paper test lab with me. At this point Ray hadn't worked out for years and weighed in at around 250 lbs but still had shoulders like a linebacker and huge arms. At the time I remember asking him if he ever thought about getting back into shape like he used to be and his good natured laid-back response was "now, why would I want to do that?". He was quite happy the way he was. Who was I to argue? Even though he was getting a fair sized belly his arms must have been a firm 20".
I recognized a lot of potential though.
<![if !vml]>

<![endif]>
All my life I was very active. At the age of five, I started with hockey and stuck with it right through high school. Baseball and peanut league football progressed into high school sports with football becoming my first love.
I worked hard to stay in shape and even made it to the junior level. Realizing I was good at sports but definitely not pro-material, I reluctantly (after trying many mini-careers) landed a job in construction, which was interesting and kept me in relatively good shape.
After a few years of hammering nails, partying and womanizing, I started a family. We spent many nights watching movies, and ordering out, having the odd bag of chips, drinking beer, and wine, in addition to the many other snacks that made their way to the sofa with us. I started to notice after awhile that my pants were getting a tad bit tighter (that damned dryer is shrinking my clothes again). But gaining a few is just a fact of life right?
I eventually found a good paying job with a local manufacturing plant. The job was a little less strenuous then construction and I found myself eating a little more from boredom.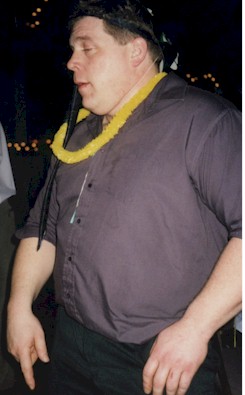 After a year or so of shift work, taking care of the little ones, very little sleep and eating at any and every hour of the day, I quickly gained about 40 pounds and in the years to follow I gained more and more. I went from a sleek 180 lbs. in my football days to 306 lbs.
After showing my now old football pictures to my lovely 4˝ year old daughter and she didn't even recognize the handsome young man in the photos to be me. I realized then that I had to do something, anything, I had finally had enough. Enough of the fat jokes, enough of sitting on the park bench watching the kids play, when really I wanted to be on the jungle gym with them. I decided that I was going to do it this time and stick with it.
I remember my first time waddling into the gym, I felt like all the others were secretly laughing and talking about the big fat guy that probably wouldn't be around long. I was going to prove them wrong this time! I hopped on the treadmill and started walking, I felt really good. The walk turned into a jog and I made it a whole mile; Man, was I proud! I tried again the next night and made it again. In fact, I ran a mile a night for that whole first week.
Now it was weigh in time. Yahoo, 5 ˝ pounds!! That's right baby!! 5 ˝ big, rotten pounds!! The wheels were turning now. If I could do two miles a night, after a week that would be 11 pounds. And maybe I could go a little faster too, start getting my cardio going. And that, my friends, is exactly how it goes. It is a beautiful thing to see some results. In the weeks and months that followed the weight was falling off.

But then something happened, something horrible. It couldn't be, one week went by and nothing, another week and zip. Is the scale broken? Was that it? Maybe I couldn't lose anymore. I was devastated. All this hard work and nothing. I'm done, forget it, I'm not coming here anymore. That's how easy it is to quit. Normally, I'm sure, that's when people do quit. But I remembered my "stick with it" promise and kept going. I was glad I did because after this plateau, which lasted almost a month, the weight started falling off even faster than before. 80 pounds in five months! Man was I flying now!
The energy came, which made better results that made me feel great, which made my family happier. One big chain reaction. A grand total of 110 pounds and maintaining. I now have two children. My daughter is eight years old and my son is about to turn five. I can now keep up with the kids. So I guess I wrote this just to let anyone who might have a weight problem or someone who may be at a plateau, to just get to the gym, go for a walk and keep at it. It has to be like brushing your teeth, something you do every day and I promise you, eventually (it will seem like forever) you will look and feel much better and the chain reaction just keeps going.
As a member of our local fire department, I am currently training for a major fire fighting competition that involves strength, speed, endurance and flexibility. My training is unorthodox to say the least. It ranges from running on the treadmill to donning my fire fighting gear and trampling through the thick brush with my 65 lb. son in a duffle bag on my back. While wind sprints, the stair climber and treadmill are my favourite exercises; I have to adjust my workouts to fit not only my lifestyle but also the schedules of my family and my two jobs.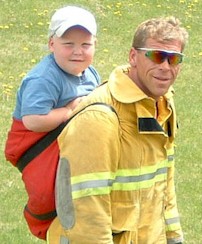 People who have children know how tough it can be to find time to hit the gym. So, my suggestion to you is to involve your kids in your workout! Put your kids on their bikes and job with them around the block or around the city. Put them on a sleigh or in a wagon and drag them everywhere. Throw them over your shoulder and run up and down the stairs. All of these are great workouts, trust me. When you can steal an hour to yourself, hit the gym.
This June, I have two competitions and they will be my first. I am 36 years old and there is a lot of wondering about how I will do. I have trained hard so far and it is getting harder as the competitions get closer. I feel I have a lot to prove; I have a need to win. My promise to you is I will qualify for the world championships. Wait and see the results of my competitions on Heavysports.com but until then, this is my story.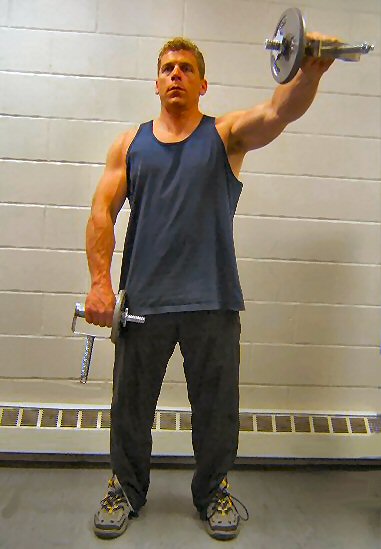 Theories and Philosophies of Firefighter Physical Preparation--From Red, White & Blue Fitness.